Wildflower Card Collection
Let me tell you a little bit about my Wildflower Card Collection.  I love wildflowers.  Whenever I see a field of beautiful wildflowers growing I immediately think of my childhood.  I grew up in the Garden State of New Jersey surrounded by open fields and farms.  Behind my childhood home there was and remains today a dilapidated old barn and horse paddock.  The open area between my backyard and the barn was the home for rows and rows of wildflowers, pussy-willows, and wild blackberry bushes.  I remember spending many hours in those fields during all of the seasons of the year.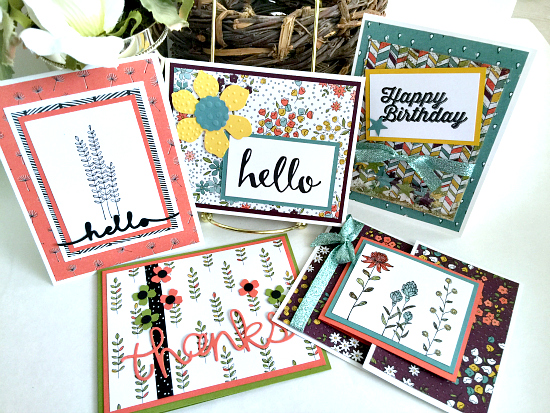 I'm especially sentimental about my hometown right now because I had to make an unexpected trip back home last week for my uncle's funeral.  The short winter days and gloomy skies made me think about the times I spent with my cousins playing in the open spaces in my grandmother's backyard.  Those were times when memories were made and our families' ties were built. Those ties have endured and grown over the decades and have been passed on to six generations now.  My uncle lived a long life.  He dropped out of school to work on his grandparent's farm when his own father  – my grandfather – died at a young age. My uncle was the link between the past and the present; he told stories to his great-grandchildren about his own grandfather who boarded a ship in Italy and headed for a new life in America.
While I was at the funeral I was again reminded that there are times in our lives when a text or an email just doesn't cut it. Seriously, are you going to text your sympathies or email your sorrows?  No.  These sad times call for a handwritten card to express your feelings, and believe me, the recipient of the card will be so grateful that you took the time to pass on your condolences.  Those cards will serve as a literal reminder for many years to come.  That's the mission of eWillow.com com – to make sure you always have a card on-hand when you need one because there are certain occasions in your life that will undoubtedly present themselves and you'll just need a card, plain and simple.
And that brings me back to my lovely wildflowers.  I don't think it was a coincidence that I was working on my Wildflower Fields Card Collection for the current subscription greeting card box during this difficult time.  (See the first card in the collection HERE.)  My childhood days of playing in the flower fields was at the forefront of my mind when I was summoned to return to the place where my memories were made.