Mother's Day Special 2017!  FREE Storage Tin!
No Coupon Code Needed for 2017 Mother's Day Special.  Quantities are limited.  USA shipping only.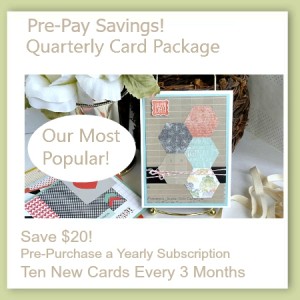 $59.00

Receive a package of ten unique handmade greeting cards (two each of five designs) delivered directly to your door every quarter. Each package contains an assortment of cards for various occasions. At the one-year subscription price of $59, you will never need to shop for a card again. A new package with new card creations will be mailed to you each quarter. Shipping is free. No refunds on yearly subscriptions **card(s) may contain parts which may be harmful to children, such as pins or small pieces **cards may require extra postage to mail.
If you would like to request cards for specific occasions, enter the information in the Comments/Special Delivery Instructions on the checkout page.
Back to Plans     /     Add to Cart      /     Keep Shopping