I've mentioned Sharon before. She works as eWillow.com's head PAL (Personal Assurance Leader.) Her birthday was in April. I have had such a tumultuous year (clear HERE for a re-cap) that not only did I forget her birthday, but I also didn't remember if I forgot it or not. I had (and still have) absolutely NO recollection of the event. I wouldn't be able to tell you if I acknowledged the day or not. I'm assuming I forgot because it's easier to tell myself that the day came and went than it is for me to tell myself that I mailed her a gift and completely forgot about mailing it. That would be too scary. ;)
Since I have been obsessed with making boxes and filling them with stationery (see an example HERE,) I ordered a custom stamp for Sharon (more about custom stamps HERE) and made her her very own box of personalized stationery. I'm hoping that because it's handmade, she'll forgive me for being so forgetful. (I'll let you know how that turns out.)
For this project I used Stampin' Up's Baroque Motif stamp set. For some reason, the word "baroque" conjurs up images in my mind of gold and silver and rusty and brown and old-fashioned. It certainly doesn't make me think of bright things. I think that may be the reason why I tend to shy away from this stamp set. However, after using the set with these fun colors, Baroque Motifs is now one of my favorite sets!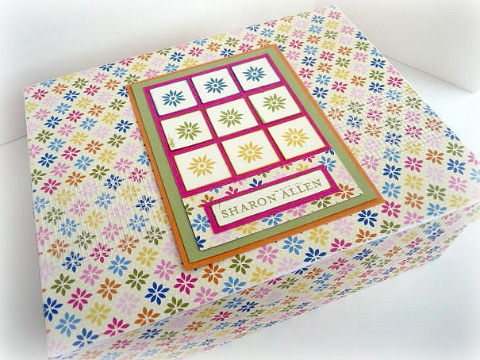 (If you look closely at the box lid, you can see that I used my trusty drywall tape as an embellishment.)
Here's the inside. I love the lid.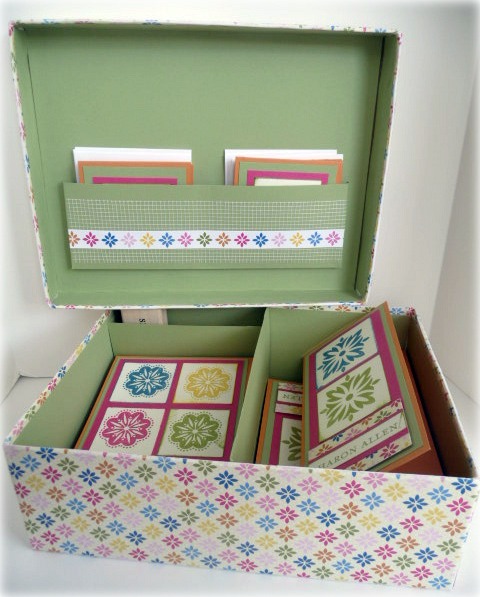 The lid's pocket holds 3" x 3" notecards and envelopes.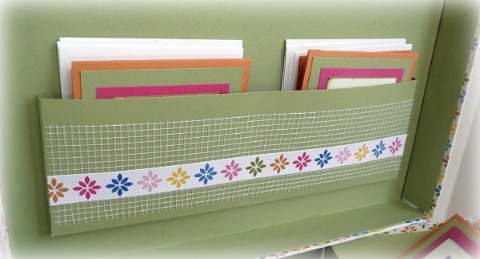 Here's a top view of the box and all of its goodies and compartments.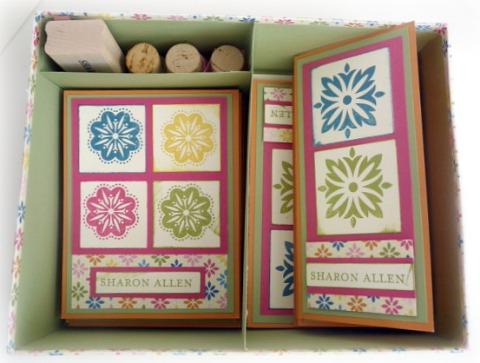 In addition to including Sharon's personalized name stamp inside the box, I also included three wine corks that I wrapped with hemp twine. She can use the twine to attach the cards to packages.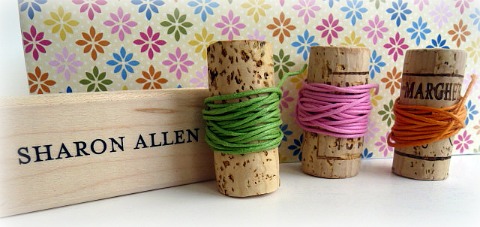 Don't you just love these fun colors? They are Island Indigo, Daffodil Delight, Melon Mambo, and Lucky Limeade...all from Stampin' Up! and available HERE.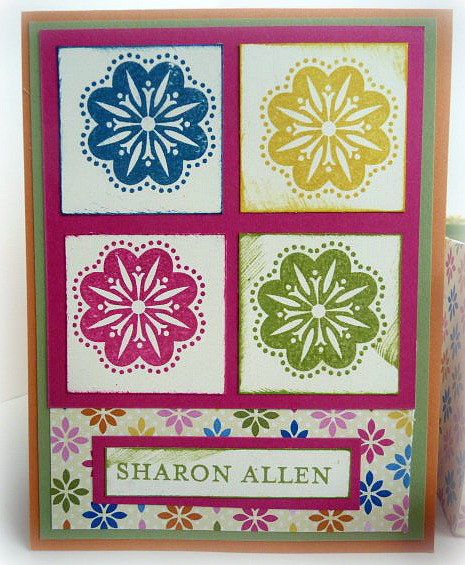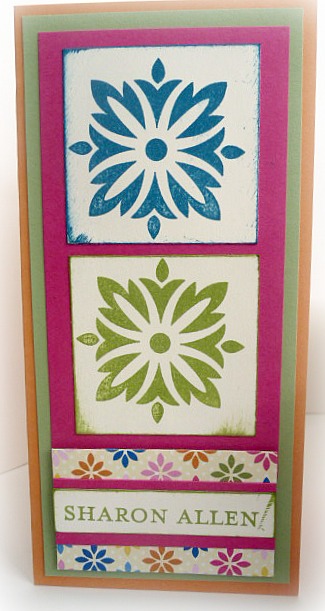 TIP: I used Mod Podge to apply the Designer Series Paper to the box. It is much easier to use Designer Series Paper than it is to use heavy cardstock to cover the box.