Anne Frank's step-sister used to make handmade greeting cards. Who knew? I never even knew Anne Frank had a step-sister.

My husband has been trying for years to get me to go to Holland. His mother and father were born and raised there before they emigrated to Canada. I always loved to hear the stories they would tell. Often they would tell stories about what life was like during the war.
I finally relented and agreed to make the trip across the big bond last summer. It was the perfect time. Our oldest daughter spent the summer in Paris working for the State Department, so naturally she needed someone to pick her up, right? I mean, it was okay to put her on an airplane all by herself to France. It was okay that she stayed alone in an apartment all summer. It was okay that she took weekend trips to Ireland and England. However, when her internship was over and it was time for her to come home, she needed us to go and pick her up... :)
Since I finally agreed to take the plunge, we decided to get Europe over with all at once. We started off in London, headed to Normandy, and drove down to Paris. We picked up Adrienne and then headed to Amsterdam.
I insisted that our first stop in Amsterdam be Anne Frank's Secret Annexe. One reason why I don't like to travel is that I don't particularly care for touristy things. I like to enjoy things organically; I don't want to like something just because society tells me I should. For example, can we discuss the Mona Lisa? I just don't get it. What is all the hype about? To me, it was just a painting hanging on the wall. However, when we were in the Louvre and I turned the corner, I suddenly gasped. There in all its glory was the Venus de Milo. It took my breath away...organically. I was actually affected by it. Not because people told me it was beautiful and I needed to see it. It affected me all on its own.
I digress. I was so thrilled to tour Anne Frank's house. I love to see things where I can say "so and so was actually in this room, breathed this air, touched these walls, walked these floors." We arrived ten minutes after the doors opened, and the wait was already two hours. I did not mind one bit. Some lines are worth the wait.
There aren't words in the dictionary to describe the experience. I will save it for another blog post. Let me just say that if it weren't for the written word, so much of history would be missing. I am so grateful that Anne believed in writing down her thoughts and feelings.
******
Fast forward six months to last week. Did you know that Anne Frank has a stepsister? Who knew, right? Eva Schloss' mother married Otto Frank after the war. Eva has written several books about her own experiences in hiding during the war and her life after it was finished. She travels around and speaks about her experiences. I was so thrilled when I found out that she would be speaking nearby. It was such an honor to be in her presence.
Naturally, I had to buy one of her books. I bought a signed copy of "After Auschwitz: A story of Heartbreak and Survival by the Stepsister of Anne Frank." I was flipping through the pages while I was waiting for the presentation to begin. Look what it says inside, in Eva's own words: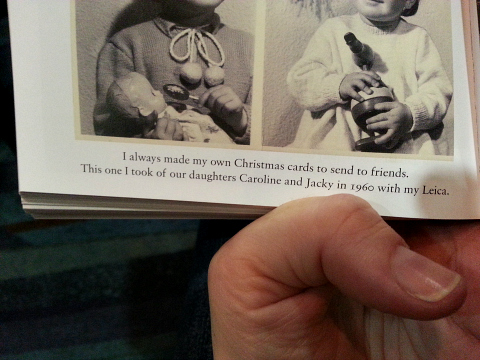 Yes, you read it correctly! "I always made my own Christmas cards to send to friends."

I was so excited! After the fabulous presentation, I asked her if she still makes cards. I don't think she really understood what I was asking...I think my question was lost in translation. However, I found out that Eva will be speaking again in a nearby town in a couple of weeks. Of course I plan on going to hear her speak again. This time, however, I plan on bringing her a package of eWillow.com greeting cards. Cards always bring smiles to people's faces, and hopefully this time she will understand me. :) With a card, nothing is lost in translation.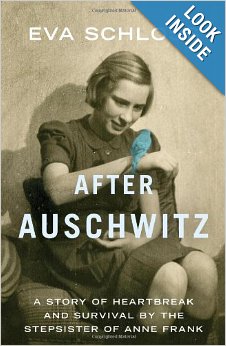 book photo from Amazon.com