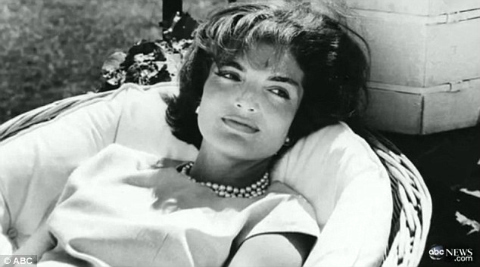 When JFK was assassinated in 1963, I wasn't born yet. I have always been fascinated by the Kennedy's and their triumphs and tragedies. Who hasn't been at one time or another, right? Jackie O had such great style, JFK was so handsome, and Caroline has had to carry the weight of her family's legacy while trying to remain low-key. I think she has done a pretty fabulous job.
A couple of weeks ago, I was glued to my laptop watching cbsnews.com as they replayed those terrible days from start to finish to mark the 50th anniversary of his death. Watching the news as it actually happened was like being transported back in time. It somehow provided a sense of closure for me as I watched Walter Cronkite come on the screen to say the President had been shot. I was able to participate in a moment of history just as if I had been alive at the time. It was surreal to watch it unfold because I knew what was coming next: I knew he would die, I knew they would capture Lee Harvey Oswald, and I knew Jack Rubinstein (did you know that was his real name?) would also participate in a violent act.
I was reminded of Jackie O's classiness while I watched a show by Tom Brokaw titled, "Where I Was the Day JFK Died." One of the interviewees was Marie Tippit, the widow of the police officer whom was also shot and killed by Oswald that fateful day. When Ms. Tippit shared the personal, hand-written note that she received from the First Lady, I got chills. If that act of kindness and thoughtfulness is not a testament to the importance of sending hand-written notes and cards, nothing is. May we all remember this special act by Jackie O, put down our phones and laptops, get out our pens and note cards, and write our thoughts down to those we love and who have affected our lives in some way. These precious gems will last far longer than a text or a tweet.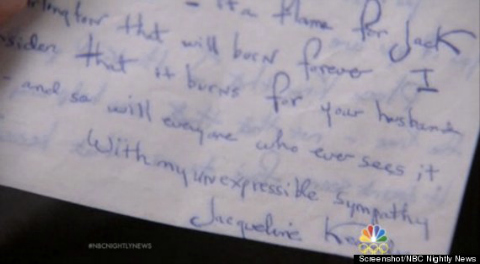 The entire note says:
What can I say to you -- my husband's death is responsible for you losing your husband. Wasn't one life enough to take on that day?

I lit a flame for Jack at Arlington that will burn forever. I consider that it burns for your husband too and so will everyone who ever sees it.
With my inexpressible sympathy, Jacqueline Kennedy
Not many words, but they are beautiful, just like the author herself.
(top photo courtesy abcnews.com/bottom photo courtesy nbcnews.com)